Geared for action after a two-year hiatus, PetExpo is bringing pet communities and pet owners ('pawrents') together post-pandemic with a meaningful 'Reunion', aptly themed for the 2022 edition.
PetExpo 2022 will take place at the Singapore Expo Hall 6 from 25th to 27th November with an exciting programme lineup of talks, workshops and more
PetExpo will have over 100 brands from 80 exhibitors for pawrents to quest for the best deals
Highlights include PetExpo's adoption drive, a constant in previous editions that serves to spotlight the importance of giving pets their forever homes
An all-encompassing event that caters to the needs of pets and pet owners while also serving as a platform to educate visitors
Singapore, 25 October 2022 – Singapore's largest pet fair, PetExpo, is all set for a paw-some comeback, returning with the same energy and excitement it brought pre-pandemic. Spanning 7,000 square metres, the sought-after event aims to bring pets and pet lovers into one lively and vibrant space to gather, play and learn as a community.
Reuniting Pet Communities With Its Momentous Post-Pandemic Return
This year's much-awaited return of PetExpo sees a full programme lineup and activities for visitors. Themed' Reunion', eventgoers can look forward to the same PetExpo experience, but this time bigger and better than before. The event will showcase a wide range of products and accessories from more than eighty local and regional vendors and feature specially-curated series of talks and workshops, discussing key interest topics for pawrents. PetExpo's last in-person edition, in 2019, attracted more than 30,000 visitors and 9,000 pets.
Speaking on the return of PetExpo, David Lim, Project Director of PetExpo, said, "We are thrilled to be hosting physical events once again. The return of PetExpo shows the wide range of services and products available to our pet communities locally and internationally. We hope the 'reunion' will be one to remember as we continue to support pawrents with their needs to provide their pets the best quality of life. This year's edition will also give exhibitors a platform to expand their offerings and services across the region."
Adoption Drive At PetExpo – A New Lease Of Life For Animals
Similar to previous editions, PetExpo is returning with its highly anticipated adoption drive, which aims to give pets a second chance to find their forever homes.
The adoption drive is organised by the Animal & Veterinary Service (AVS), a cluster of National Parks Board, and supported by Animal Welfare Group (AWG) Partners. The adoption drives at past editions of the PetExpo were well-received and saw several rescued animals being given a second chance at a loving home. Those keen on adopting a pet can look forward to a range of animals for adoption, including cats, dogs and bunnies.
Owning a pet is a big commitment and will require care and dedication. As such, the AWGs have screening processes in place to safeguard the welfare of these animals and to ensure that the new homes are best suited for their needs so that they can live out their remaining years well. The adoption drive will also have staff or volunteers that can answer guests' queries, allowing them to make a more informed decision about adopting. In addition, there will also be an exhibition on responsible pet ownership, including guidelines on adopting a pet.


PetExpo 2019 adoption drive
Insights To Let Your Pet Live Their Best Lives
For many pawrents, offering their animals the best quality of life remains the utmost priority. As such, this year's PetExpo will also introduce talks and workshops focusing on common problems that pet owners face. The platforms hosted by experts aim to help pawrents gain knowledge and practical skills to help them overcome such challenges.
Visitors will have the opportunity to learn more about their pet's nutrition and how diet may play a part in addressing certain conditions such as diarrhoea and skin problems, through sharing sessions by Dr Francis Cabana of Pet Cubes on Nutrition for Cats and Dogs, Loh Siew Leng of Paws Fur Life's 'Preparing Healthy Balanced Meals for Your Dog – The Basics of Canine Nutrition' or 'Nutrition from the Inside Out' by Jason Wang of BOM BOM.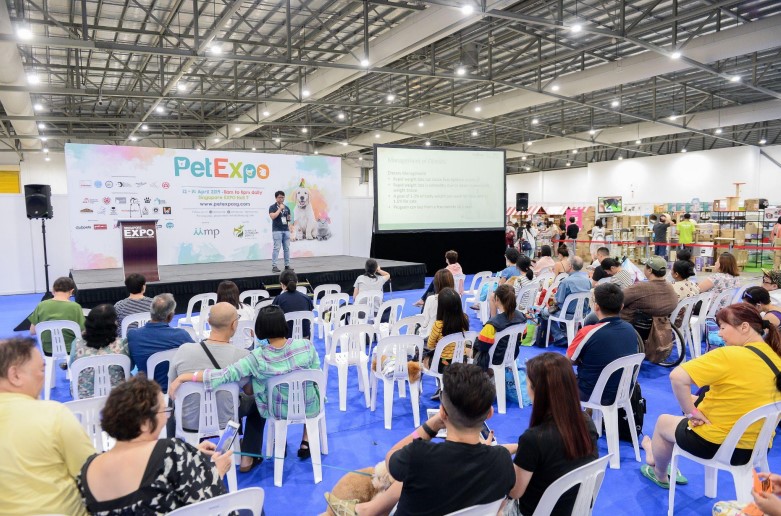 PetExpo 2019 attendees enjoying a talk on Basic Nutrition for their pets
Those who are keen to find out more about how wellness therapy can rehabilitate and improve the way of life for their pets, may also attend talks like 'Pet Rehab' by Dr Sara Lam of RehabVet or 'The Healing Power of Massage to Transform Your Dog's Health and Happiness' by Karen Lim of Paws Fur Life.
On top of that, PetExpo will showcase how veterinary consultations have evolved since the pandemic. Learn more about virtual consults and on-demand pet healthcare platforms – Pawlyclinic and how 'Even furkids can have teleconsult!'.
The highlight for this year's PetExpo will see 100 Bichons in one place as the organisers attempt to enter the Singapore Book of Records successfully. In addition, other showcases featuring British Shorthair Cats, Rabbits, Terrapins, and a collaboration with the Betta Club will give rise to opportunities for pawrents to interact with owners of the same breed and to share insights and tips on how best to look after their pets.
May The Best Fur Kid Win
A little friendly competition never hurt anyone! Watch pet groomers compete for the top spot in the FCI Grooming Competition by The Singapore Kennel Club (SKC) and watch the most adorable dogs crowned PetExpo 2022's most well-groomed pups! Fans can also witness PetExpo's Dog Obedience Competition by Waggies as furkids compete for the podium by showcasing their best abilities and skills. Visitors looking to catch a glimpse of the shows may consider joining in on the fun at the SKC Championship Dog Show & FCI International CACIB Dog Show, happening on day three of the expo.


Dog Shows and Competitions at PetExpo 2019
Ticket sales for PetExpo 2022 are available online from now till 11 November 2022, after which, tickets will be on sale at the door from 25-27 November 2022 at Singapore Expo Hall 6.
For more information on PetExpo's programmes, participating vendors, and ticket purchases, please visit http://www.petexposg.com.
PetExpo 2022 Event Details
Date: 25 – 27 November 2022 (Fri-Sun)
Time: 11AM – 8PM on Friday
10AM – 8PM on Saturday & Sunday
Venue: Singapore Expo Hall 6, 1 Expo Dr, Singapore 486041
Admission: $5 per day / $12 for 3-Day Pass
Free entry for children below 12. Pets are welcome!